WELCOME TO OUR WEBSITES



CRISTA SMEE - V1, CWC, BOB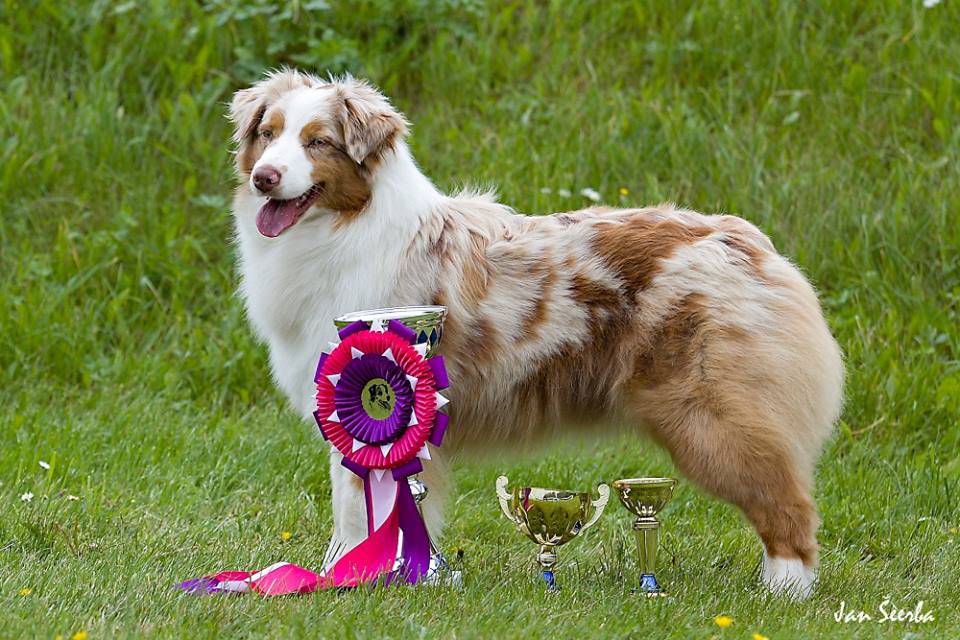 AUSTRALIAN SHEPHERD
Standard of aussies ČMKU, FCI, ASCA, AKC

NEWS
22/12/2016
All puppies have their homes.
20/11/2016
Puppies are 6 weeks old. We have available male FISSION (on the picture on the right)

13/11/2016
New pictures of puppies here.
We have available males.
30/10/2016
We have puppies! They are 3 weeks old now and some males are available.

For more informations fell free contact us!

06/09/2016
JUST is pregnant ;)

17/08/2016
We are planning new litter! More info here

Health results of DRAGONNIER Gitaron:

HD A, ED 0/0, SA 0
DNA HSF4 clear

12/08/2015
Club show Přerov
DRAGONNIER Gitaron - ex. 3
He passed dogdancing exams HtM1, MD1, DwD1, F1 in last month.
We plan the last litter our "Justy" JUST FOR ANNE PUELLA FERA.

05/07/2015
News about litter "D"
DE BLANCHE NEIGE
IDS Szekesfehervar (HU) 2 x ex. 2
DRAGONNIER
IDS Brno (CZ) ex. 3/5
Obedience competition for puppies - 3rd place
07/06/2015
New pictures of "Oti". He and his mother Gitie were at eye check and both have eyes clear!
02/06/2015
New pictures of "Oti", he is still available.

CRISTA SMEE at Club shows KCHBO - ex. 3 and vg 4

CRY´N´SA CAM was at agility competition in Prerov. She won two runs out 3 ;)
J1 - 2./14, .
A1 - 1./14, best time
A1 - 2./12., best time

26/05/2015 - IDS Rzeszow, PL
CRISTA SMEE - ex. 1, CWC, r. CACIB!

10/05/2015 - NDS Rybnik, PL
CRISTA SMEE - ex. 1, CWC, Best female, BOB!!!
28/04/2015
Cash, Jack and Jamie (Sheltie) have eyes clear (until April 2016).
CRY´N´SA CAM Gitaron passed her third agility A1 and she can go to A2.
23/04/2015
Gitie gave birth lovely black tri boy yesterday.
CRISTA SMEE Gitaron
NDS Ostrava CZ - ex. 1, CAC
NDS Zabrze PL - ex. 1, CWC, Best female, BOS

GATE CRASHER AT Musimaciay
NDS Zabrze PL - ex. 1, CWC
CRY´N´SA CAM Gitaron
Agility LA 1 - 1st run 1st place, 2nd run 2nd place ;)



The first book about aussies in the Czech language and our aussies inside in pictures :)